This is about the movie
Madagascar 2
Jade Zheng a.k.a Tey Cindy is giving tickets for

FREE!!!
To join and for more info:
http://www.jadezheng.com
I dont know whether the tickets are gone yet or not.. but I still try and blog about this coz I personally thinks that this is a great movie!! Hope I still can make it~!! Dying to meet you(Cindy) and other bloggers coz im new in this blogosphere..so I can meet more people and senpai in this area. HOHOHO...
But nothing is free in this world rite? She said:
All you have to do is to
blog about
what ANIMAL would you love your boyfriend OR girlfriend to be, in
BED
OH MY GOD(never thought about it..) *thinks*
I think a hot sexy female Cow is the best~ hohoho..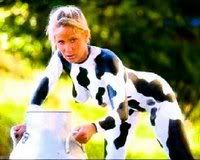 Mama~! MoOoOoOoOoOoooOOO~!!
A female Cow have like how many nipples Ops! I mean teats..? like four? HOHOHO!!! thats more than enough(milk)!! Of course I will be a bull with nose rings to enhance my macho-ness~ Hohoho...



And if u happened to read my blog Cindy.. I hope I can get the movie ticket(hope im not too late) and not forgetting the t shirts!!



RandomThoughts: I hope I can fit into the shirt~! hohoho...