Yahoo!! The
HOTTEST
, most
SIZZLING
and
DRAMAFULL
Malaysia's 1st online model search is back with
Malaysian Dreamgirl
season 2!
What is Malaysian Dreamgirl about?
For those of you who don't know what is this Malaysian Dreamgirl about, well it is the first reality series based on a model search competition to be fully broadcast over the internet.
The competition begins with walk-in auditions held at major cities around Malaysia. Among the hundreds of aspiring Malaysian models that audition, 12 will be selected by the judges for a shot at the big stage. These 12 finalists will then live together for up to 10 weeks, learn the basics of modeling and compete to prove who is the
BEST
.
The Judges
Yah..No more our most favouritable judge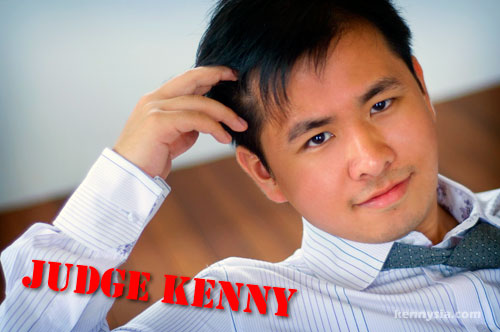 Kenny Sia's famous quote during MDG1:
"I AM A BROGGER!!!"
*Contestant walks in*
Kenny: "Interesting" outfit..
Contestant: (Oh he likes my dress!)*smiles* Thank you.
Kenny: *blur* Thats not a compliment.
Nemai la Kenny. Maybe you can make ur own competition and call it Kenny Models. Hohoho...
Prizes
The next Malaysian Dreamgirl will get these:
Brand new
Chevrolet Aveo Lux 1.4(A)
RM10,000
cash
HP Pavilion
Notebook
RM1,000 of
Beautilicious cosmetics
RM1,000 of
Escada fragrances
RM1,000 of
Wacoal lingerie
RM1,000
Marie France Bodyline vouchers
RM1,000
Bella Skin Care vouchers
RM1,000
Svenson Hair Care vouchers
Spread in
InTrend magazine
Exclusive
Andrewsmodels' portfolio
RM500 of Wella Professionals hair products
Where?
PENANG
Date 13 Dec 08
Time 10am - 5pm
Venue Bayview Hotel, Georgetown
IPOH
Date 14 Dec 08
Time 10am - 5pm
Venue Impiana Casuarina Hotel
JOHOR BAHRU
Date 20 Dec 08
Time 10am - 5pm
Venue Hotel Selesa
KUALA LUMPUR
Date 10 Jan 09
Time 10am - 5pm
Venue Impiana KLCC Hotel & Spa
and also goodie bag for the first 25 girls to audition at each location.
A piece of my advice
REMEMBER TO PUT ON THE MOST "IN" CLOTHES YOU HAVE WHEN AUDITIONING BECAUSE THIS WILL AFFECT UR CHANCES OF GETTING SELECTED.(based on MDG1 audition)
RandomThoughts:I wonder when will they make Malaysian Dreamboy ah? Hohoho..
http://www.malaysiandreamgirl.tv/