There is a Chicken Rice shop that I regularly go. This shop is very famous. Has about 50 something(if not mistaken) years of experience making Chicken Rice(woah..thats even before Malaysia Merdeka!).They go from a regular Chinese coffee shop which sells chicken rice to the air-conditioned,many artists go and LCD tv to monitor their CCTV!!
Of course their chicken is very special. Very juicy!! Every part of the chicken including the breasts is very juicy! And they serve something that other shop didn't.
The shop im talking about is Restoran Loke Yun Ampang~!
So,on last Wednesday 5th Nov, my food lover girl+friend,Helen ask me to go there to eat.. and we went there with 2 more of our friends.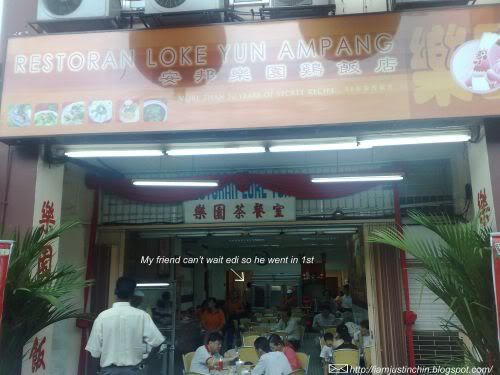 My friend Dennis(the one with the pointed arrow).
So we ordered our usual thing.
The CHICKEN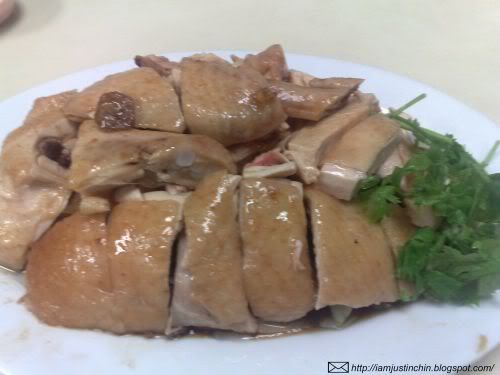 Thats half a chicken. They also serve vegetarian chicken which costs a lil bit more. Hm..is the chicken is vegetarian so their meat is made up of vege. So vegetarians can eat the vegetarian chicken lah rite? Hohoho.. Just kidding..though I still thinks so~!Easy say, their chicken.. 10/10 PERFECT!
The thing that they serve other shop didn't~
Chicken stomach(quite common) and chicken intestine(not common)!
I got to say I love the intestine. It doesn't have a taste or smell only the texture is crunchy~!(Yum Yum) and they add the soy sauce to it to add flavour~ Just PERFECT!
And their special sauce~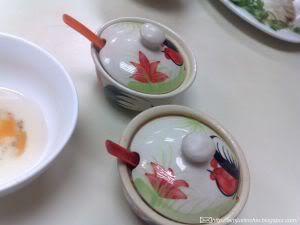 Jeng~jeng~jeng~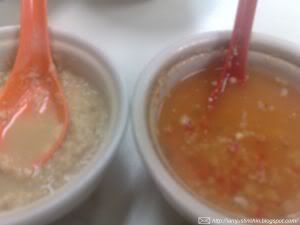 The yellowish is ginger the reddish one is chilli and their secret ingredient. I normally eat chicken rite without the chilli but this one is a different story~! There is no meaning in eating their rice without the chilli(My father's quote). Hohoho.. Btw.. the chilli is eaten mixed with your rice. Half spoon of ginger with 1 spoon of the chilli. PERFECT!
But something good sure have the bad side. The only turnoff is their soup.
The soup consist of mostly pepper and ajinamoto(flavouring).Not perfect...
That's not all. They also serve other vegetables like bean sprout. The best is bean sprout la and also their unique fishball which have meat in the center of it. But as you know~ Im a student. Can't afford all those.
To me this chicken rice shop is the best in Ampang but not the best of em all lah. Still worth giving it a try~.
We 4 people eat oni sum up to rm35. (Two of us is big appetiter and two other is normal appetiter). At the end all of us are full~!
This shop is located at Pekan Ampang. The address is
Restoran Loke Yun
158, Jalan Besar,
68000 Ampang.
Tel :03-42919884.
RandomThoughts:If you know any other yummier~ chicken rice shop in Ampang or around that area, feel free to tell me about it. I surely will go coz Im a chicken rice lover~!Hohoho...