(updates are at the bottom of the post..scroll down pleeaaasssseeeeee..hohoho..)
Hohoho..sorry for da late posting. I actually thinking of not posting about this coz I think is too late already but I have some photos with me. So, what the hell.. just post lah!
I actually arrive at the Gardens quite early. The session start at 8. I'm already there at 6 o'clock. Hohoho.. Coz I scared I get lost(1st time go there). So I decided to go abit ealier.
When I arrive at MidValley(I'm using KTM), I realised that The Gardens is just beside MidValley..(=_="). So, I walk around, I was soo daym boring. Then I look at my HP, it is just 7pm!! Argh. Luckly when I walked on the top floor, I saw a Sony shop. In front of the shop they promoting a Sony Bravia Full HD(I think thats the name) and they are showing Kung Fu Hustle movie!! Hohoho..so I stopped there and watched till 7.30pm then I go to Italiannies.
When I go there, I saw Karena,Bryan,BoyParisHilton and a few others already there. Follow up by the 2 Brothers..Hohoho..
Enough writing, it's time for pictures..Hohoho..
The Registration Table
So,after everyone registered,we went in..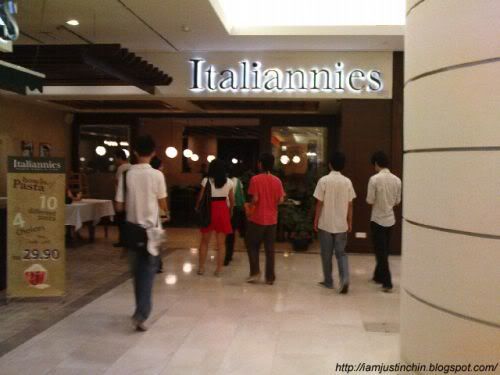 I thought that we were the earlier birds..but no..when we go to our room, I saw 4 girls already sitting inside..Hohoho..
(their face that time was like soo serious, man..they scare the hell outta me! hohoho..)
This was at everyone's seat. Nothing special, just a menu with some stuffs.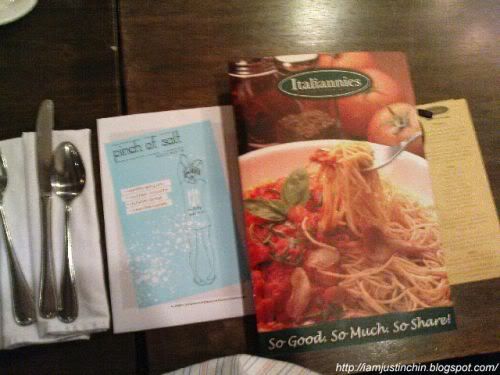 The good thing is, we can order any drinks in the menu including Wines..Hohoho..how I know? Coz BigBoysOven taiko sat beside me and ordered a white wine..Hohoho..
After everyone sat down and ordered drinks,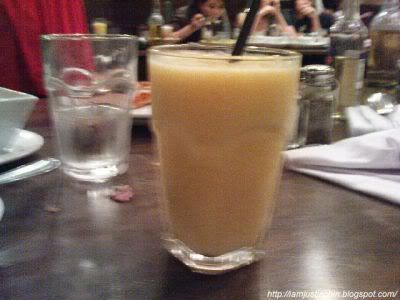 (thats mine..er I think is Ripe Mango Smoothie)
then
Robb
gave a speech and asked us to introduce ourself!! Daym. I wasn't prepared so my introduction sucked! but who cares? Hohoho..then is
KY
's turn to give a speech but suddenly changed into a Q&A session..Hohoho!!
The Qs to KY:
1.How you maintain ur slim body even you eat alot ah?
2.How many girl you dated when you go eat ah?
Answers from KY:
1.Must do sports. He say he exercise at least 3 times a week..
2.He say he just got alot of friends lah..Not date.
Hohoho..
After awhile..the Q&A session become soo long, I suddenly discovered the picture behind
KY
is kinda nice. So I wasn't listening already. Hohoho..and I was hungry, so I ate 1st.
In the room, there was like 2 different sides of people.
The side with camera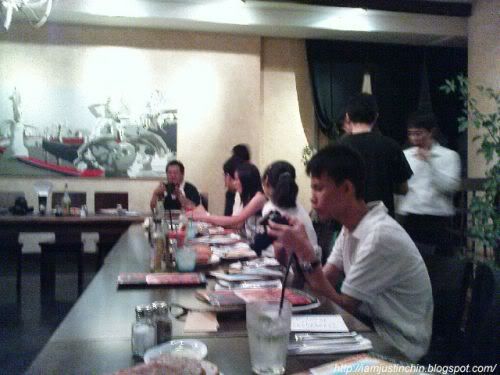 and the 'Oh I forgot to bring my camera side'hohoho..
If not mistaken, this side only Superwilson and BoyParisHilton got take pictures.
When we were in the room, not all of us know each other, so we were kinda timid. But then after very one was warmed up, then the RIOT STARTS!! Everyone was not in their seat anymore!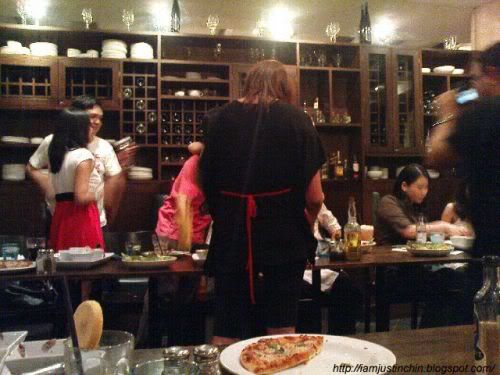 The loudest group of the night is..*drum rolls*
jeng jeng jeng
SuperWilson,Rui and the Brothers!!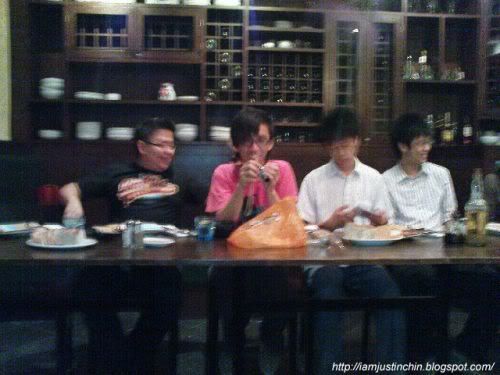 Hohoho..
The camwhore of the night is..*drum rolls*
jeng jeng jeng
KARI!!
Hohoho..
Pictures of da food!
1st is da Quattro Platter(my fav)
From left to right(Fried Squied,Cheeseball,Onin Rings)
and the other..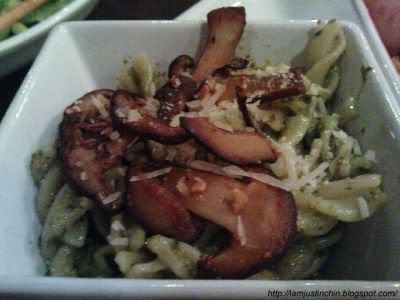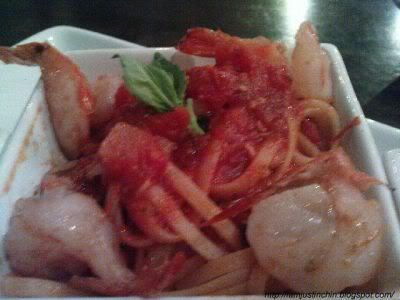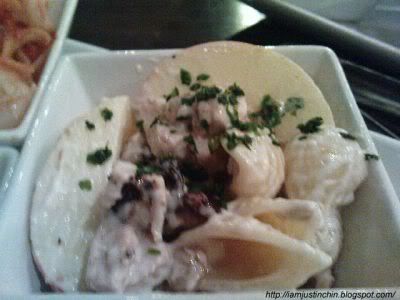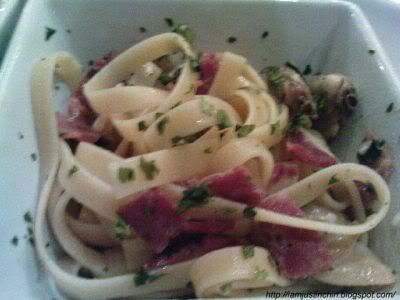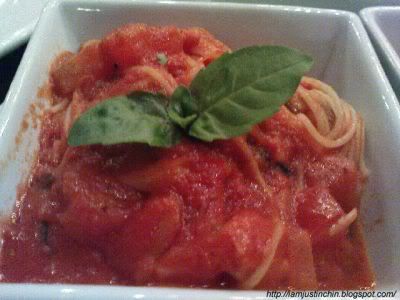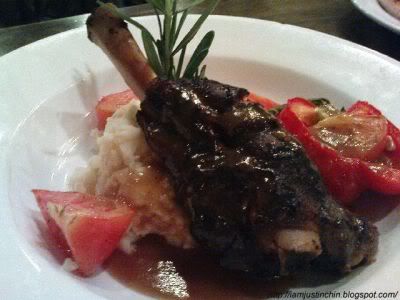 I dont have the picture of the Salad coz I dont like salads. Hohoho..
And I also dont have the picture of the cake coz I have to leave early to catch the train!! Sobs!! Hohoho..but I will try to steal the picture from other people's blog.
So I leave at 9.45pm.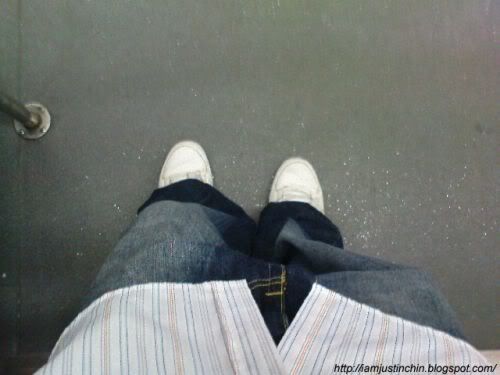 Last but not least I want to thank Nuffnang for inviting me to go to the 3rd Nuffnang Sharing Session!! Hohoho..
and not forgetting Tupperware for the bottles..Hohoho..
(updates)
List of the people who went(some people are missing..I have to go back before the list is completed. SORRY!!)
The previously missing dishes..
The Salad
The Cakes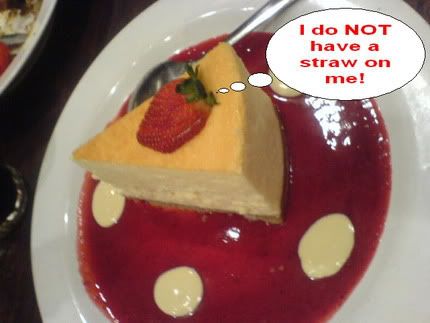 Picture stolen from
Robb
..Hohoho..
RandomThoughts:Hm..I wonder how the cakes taste like!! Argh!!!