Sorry guys for the long absence..You know..It was holiday and I ain't doing anything special.. but I did something today..
Just now..at 11.45pm..I went to watch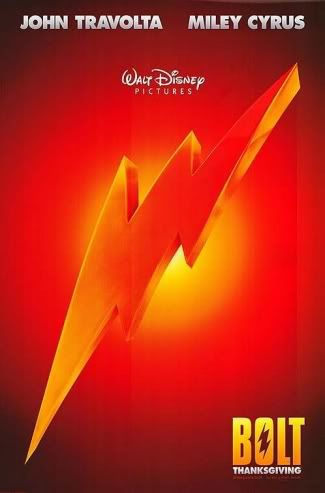 with my younger brother at MBO in Galaxy Ampang. Some of you may know it..some may not but this cinema is just across the street from my house..Hohoho..very convenient huh..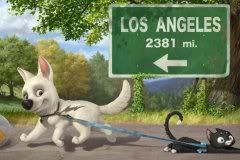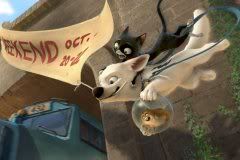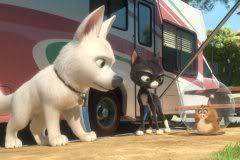 Star Rating:
Overall:4/5
Cast:4/5
Plot:4/5
Effects:4/5
Cinematography :4/5

This story is about a

German Shepherd

dog named

Bolt

who is raised on the set of a hit television show and

Bolt

believe that he have super powers but

NO

.. so things gets bad when he was accidentally shipped to

New York

! Believing he have super powers,he run into many dangerous and some stupid situation like trying to stop a moving truck with his head..Hohoho..With the help of two unlikely traveling companion-a jaded and abandoned housecat named

Mitten

and a hamster cum

Bolt

's fanatic who doesn't know

Bolt

don't have any super powers named

Rhino

(he really should have a smaller name bah..Hohoho).

Bolt

's journey to get back to his owner begins...
Overall I think this movie is quite nice. Worth the ticket money..Hohoho.. my younger brother even said this is the best animation soo far..even better than
Wall-E
..Hohoho..
Btw..I encourage you to watch it on the normal cinema..NOT in 3D..why? Coz I said so.. Hohoho..
Bolt
's game is out!! I bought them for my brother(OMG..how nice of me..Hohoho..) along with
SmackDown

Vs

Raw

2009
and
Need For Speed Undercover
..Hohoho..So whatcha waitin for? Go to game stores near you!Haiz..now just waiting for
Dynasty Warrior 6
and
Kingdom Hearts Re: Chain of Memories
RandomThoughts:When the movie is starting..there was like commercials about other movies..and then there was this movie about a mouse..haih..have to bring my brother to see again..